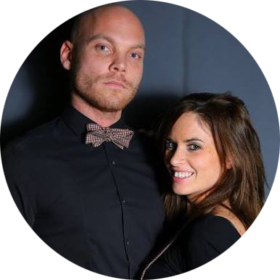 Olivier & Virginie Massart
Teacher, Choreographer
Olivier and Virginie are living in Lyon, France, the city known like "the capital of WCS in Europe". Since 2010, they have been sharing their passion for west coast swing, competing at renown events, like Swing Diego, several times finishing in TOP 5 in Champions level JnJ.
More…
Paul Warden & Coleen Man
Teacher
Paul Warden and Coleen Man, both from London, UK, have come together to form House of Gay-asia. Individually they both have years of WCS dancing and teaching experience.
More…
Full Experience Pass


245€
8 hours of workshops (including salt mine)
4 parties
Saturday lunch
Sunday lunch and dinner
Event Pass
225€
8 hours of workshops (including salt mine)
4 parties
Full Party Pass


150€
4 parties
One-Party Pass


30€
1 party
(Excluding Sunday party)
Price tickets schedule
Starting 1st of April the workshop ticket pass prices increase with 20€.
Starting 27th of May workshop ticket pass prices increase again with 20€.
The party prices will not change, but we still ask you to register so that we know the number of participants in time. Thank you!
Discounts
Groups of 10 persons with full experience passes have 10€ discount per participant.
For more details about group registrations read the event rules or contact the organizers.
WSDC Advanced dancers have a 50% discount of the workshop passes or 50€ off the Party pass.
WSDC All Star dancers have free Event Pass.
Note: discounts cannot be combined.
CityBreak
Take a break between dance classes and discover the beautiful city of Cluj Napoca. Play the video to see why you should visit the heart of Transylvania.